We are Acme Radio Live, and we are Authentic Music City.
Acme radio is the unfiltered voice of Music City, showcasing all genres of music and broadcasting them worldwide.
Our mission is simple: honor the past through preservation and look to the future by discovery. We celebrate heritage acts while shining a light on talented musicians and artists who get by on a day job and a dream.
From music to wellness, food to sport, and everything in between, Acme Radio Live hosts unique lifestyle programming that harnesses the community spirit of Music City.
aka Hammel | @hammelandeggs
In 2005, Justin Hammel graduated from Belmont University with a Bachelor's of Business Degree with an emphasis in Artist Management. Immediately he tucked the diploma away in a drawer never to be seen again as he already had 2 jobs - Bar DJ & Radio Helper Outer. He had interned at Lightning 100 in 2003 and was full time by 2005 booking shows, doing production & promo work, being a radio personality, and doing everything he could to propel the local music scene forward. That work continues to this day as host of a weekly Nashville focused music show called the615. Around 2008 or so he begged for an hour on the air at Radio Bonnaroo and the next year was asked back to help run it. He's now been in charge of the annual FM takeover in Manchester, TN for over 10 years. In 2015, he was serenaded by Carl Gatti's trombone playing and general charisma to start something new… a streaming radio station at The Acme Feed & Seed in downtown Nashville. Acme Radio Live was born. Here, he takes his role as the program / music director of a team of individuals that give everything they have day in and day out to continue the vision of music first. No red tape, no favors, just music we believe in. The saga continues… Wu-Tang, Wu-Tang. Hammel is #InTheMix every Wednesday from 12-2.
aka Mista Gatti | @mistagatti
Born and raised in TX, Carl Gatti moved to Nashville to pursue a music career. His Belmont University Trombone scholarship turned to a music business major. As a musician, he found himself focusing on the platform, or lack thereof, for artists to be discovered and developed. He found himself throwing house parties with Moon Taxi, Black Joe Lewis, Snarky Puppy, and many more, which lead to the first official venue show at mercy lounge. That morphed into the Official Democratic Viewing and After-Party during the 2008 Presidential Debate when it came to Belmont University. After that, he was a third party promoter for many years bringing touring artists to town, creating weekly local shows, and producing festivals with acts like Cage the Elephant at Starry Nights in Bowling Green, KY. After 4 years of producing and promoting shows, he hit the road and started managing bands which was his passion all along - Artist Development all while still playing Trombone for multiple sessions and artists. Gatti met Tom Morales of Tomkats Hospitality at the launch of Music City Roots and at The Woods at Fontanel as he was working the artist hospitality. In 2013 Tom called and asked Gatti to be the production manager for a concert series he was bringing back called "Nashville Dancin". The next year he was promoted to talent buyer / production manager and came on board as program director for a new venue Tom was opening up called Acme Feed & Seed in 2014. In 2016, Gatti helped launch and manage Acme Radio Live with Tom and Justin Hammel. Mista Gatti is still a touring and session trombonist and now the Director of Entertainment and Radio at Acme Feed & Seed. Gatti believes in the magic of Music City since day 1 and focuses on the sustainability of authenticity. Mista Gatti is #InTheMix every Monday from 12-2pm which re-airs every Tuesday from 5-7pm.
aka DJ Gee, DJ Giddyup, DJ ándale | @guyfell
Guy Fell AKA DJ Gui AKA DJ Giddyup, AKA DJ Andale hails from Louisville, KY. He mixes all of the audio for Acme Radio, from our commercials to in-studios sessions to all of our live performances. He got his start as an audio engineer at Belmont. Before he graduated he became a monitor engineer for Franklin Theatre. He has ran monitors engineer for the likes of Tony Joe White, Jeffrey Steele, and many more. During his last semester at Belmont in 2013 he began working at Lightning 100. He made the move to Acme Radio Live in 2016 and is currently the Radio Production Coordinator for the station. He loves working for this station because of the focus Acme Radio puts on giving not only a voice, but also tangible content, to incredible artists that may not have the support of a major label. In his natural habitat, you can see him dancing to hip hop, anything with a funky beat behind it, and particularly music from the 90s and early 2000's. Also a Scorpio, also believes in aliens - We let him live his life. DJ Gui is #InTheMix every Friday night from 5-7 which re-airs on Saturdays from 5-7pm.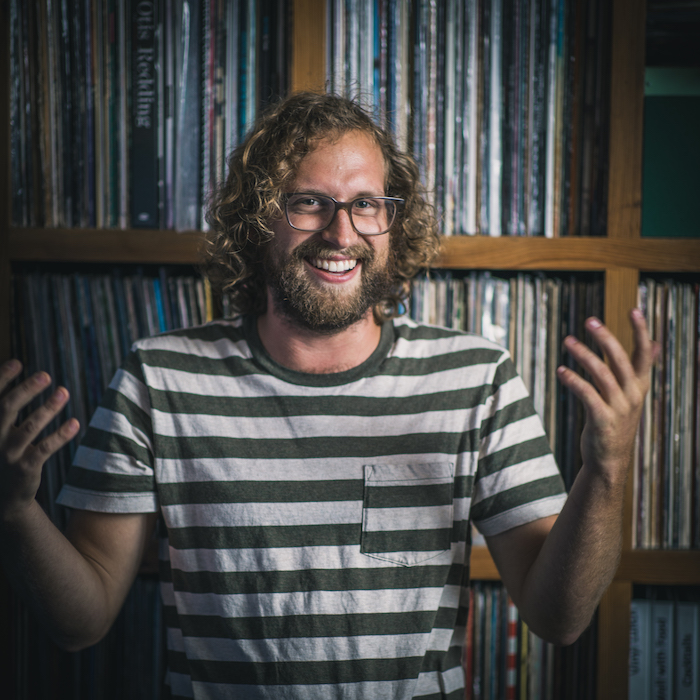 aka #FIP (former intern preston) | @prestonrevans
Preston Evans grew up in Nashville. He (quite literally) eats, breathes, and sleeps Nashville. He first picked up a guitar at age 6, and has been playing around town since he was about 10 years old. Known affectionately by his peers from a young age as "Mozart," he had definitely caught the music bug. After high school, Preston spent brief stints in Colorado and New Orleans, but always found he was pining for the deep sense of community, connection, and talent he found in the Nashville music scene. He moved back to Nashville in 2016 and took up a job as an intern at Acme Radio Live, stoutly believing in giving a voice to the myriad of gifted artists that can unfortunately slip through the cracks in such a saturated city. Almost three years later, he works as an assistant talent buyer for Acme and an in-house videographer/photographer for Acme Radio. You can often find Preston hanging out at various concert venues and dives around town, likely locked into an animated, hand-gesture-heavy conversation with friends or dancing in the front row. Seeing Nashville's expansive change of the years has been bittersweet for natives like Preston, but people like him have hope that Nashville's music community will always flourish and churn out brilliant storytellers and dynamic performers alike. He is happy to be part of a team whose mission is to support these artists. #FIP is #InTheMix every Thursday from 12-2pm which re-airs every Monday from 5-7pm.
aka DJ Rachi-O | @rachi_o
Rach is our little Gen-Z wildcard. She keeps Hammel young with her blank stares when he references 90s hip-hop or quotes some 'classic' movie, and follows in his footsteps by attending any and all 'nobody' gigs in town. If you had asked High School Rachel if she would be living in her hometown of Nashville, Tennessee through her early 20's, she would have confidently said "H*ll No". Alas, after escaping to the mountains of both Colorado and New Zealand for a couple of years, Rachel has rekindled her love affair with Music City. After a few radio internships and a brief stint as a station's Music Director in the land down under, Rachel took a liking to having a face for radio and hoped to find a job in the business post college graduation. So, when Guy Fell and Preston Evans mentioned they could use some female energy on The Acme Radio team, returning to Nashville was a no brainer. She spins a genre of her own ranging from sad girl to late night neo-soul that we at Acme Radio have dubbed "Indie Vegan Vibes". When she's not at Acme Radio, you can find Rachel at a local farmer's market, cooking up savory vegan treats in the kitchen, or fermenting her own kombucha. Tune in every Tuesday at noon for two curated hours of music by DJ Rachi-O, and every Thursday from 3-4pm for interviews & live sessions from some of her favorite local female artists. DJ Rachi-O is #InTheMix every Tuesday from 12-2pm which re-airs every Wednesday from 5-7pm.
aka Sweet Baby Car
Carson began her journey with the Acme Radio Live crew as a marketing intern in the spring of 2017. She started almost immediately after she moved to Nashville from Charleston, South Carolina and fell in love with the exciting opportunity to work with talented local artists everyday. Since then she's grown into the Tomkats Entertainment Marketing Manager who helps with all marketing efforts for not only the radio station but entertainment and programming at Acme Feed & Seed as well. She's previously worked on Talent Check-in teams for 5 award shows including the Grammys, Billboard Music Awards and ACM's and has also done marketing for cannabis company, My Bud Vase. She tends to stay on the socials or nagging the rest of the team members to meet their deadlines but every once in a while they'll let her on air as Sweet Baby Car where her basic-white-girl-but-also-lives-in-east-nashville music taste shines through.